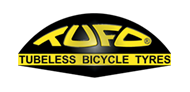 TUFO ELITE PULSE tubular & clincher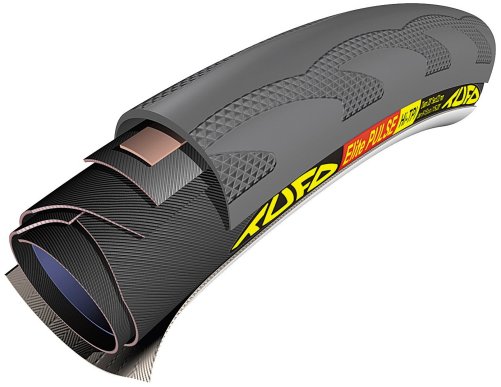 Use
time trial, tri events, hill climbs
Size
700 x 22 / 700 x 25
Weight*
700 x 23 230 grams / 700 x 25 280 grams
TPI
210

/ 375

threads per inch

Pressure
115/220

psi

Protection Belt
Puncture resistant layer
Casing
Priority
Rubber tread
silica tread compound
Inner tube
None tubeless construction
Valve
40mm
Mileage
Dependent on riding conditions & riders weight
* manufacturer's claimed weight
Tufo's newest top of the line time trial / light weight road tire. The tire's shape is designed for minimal aerodynamic frontal area, features a smooth tread / s

idewall transition. The fine tread pattern along with the specially formulated tread compound

(

silica + VP SI 363)

provides excellent traction in both wet and dry conditions along with excellent rolling resistance. Tire construction features a puncture resistant ply over a protective rubber ply, it also incorporates Tufo CRCA technology. Low weight combined with excellent puncture resistance and a high tread count construction makes this 1 extremely attractive tire.
$76.90 each PURCHASE TUBULAR TIRES
$97.00 each PURCHASE TUBULAR TIRES WITH FREE GLUE & SHIPPING
$92.00 each PURCHASE TUBULAR CLINCHER TIRES
TUBULAR PRICE LIST (check here for 10 for pricing)
TUBULAR CLINCHER PRICE LIST (check here for 10 for pricing)
tufotires.com is a website of WORLD CLASS CYCLES LLC.
207 219-8858 / toll free (USA only) 877-WCC-BIKE